What's wrong with this picture?


Rooftop wind turbine madness in the UK.
(Picture from Paul Gipe's site.)

---
THE ENERGY SAVINGS TRUST
•Wind turbines do work but only when installed properly in
an appropriate location.
•There is a potential for delivering carbon savings and energy
generation from domestic small-scale wind turbines in the UK.
•The highest potential for successful household small-scale
wind installations is in Scotland.
•Wind speeds are difficult to predict and highly variable.
The Energy Saving Trust recommends that potential
customers first utilise the best available wind speed
estimation tools and then, where appropriate, install
anemometry to determine the wind speed distribution.
Data gathered through the field trial indicates that none of
the sites with building mounted turbines had average annual
recorded wind speeds of 4m/s or greater, and only a third of
free standing pole mounted turbines had average annual
recorded wind speeds of 5m/s or greater. It is therefore
likely that many sites in the UK have less of a wind resource
than previously predicted....
No urban or suburban building mounted
sites generated more than 200kWh or £26 per annum,
corresponding to load factors of 3 per cent or less. In some
cases, installations were found to be net consumers of
electricity due to the inverter taking its power (up to 10W)
from the mains supply when a turbine was not generating.
A review by Paul Gipe

---

The Ampair perspective
Dutch small wind turbine trial suffers low wind speeds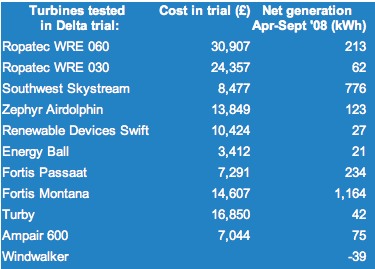 HAWTs generally score much better than VAWTs in this test but there are exceptions, notably the Swift (shown right) which seems to me to be a bit of a disaster - a shame considering what nice people they are, and near to my home town of Edinburgh.

---
A new Carbon Trust study into the potential of small-scale wind energy has found that small wind turbines could provide up to 1.5 Terawatt Hours (TWh) per year of electricity (0.4% of total UK electricity consumption) and 0.6 million tonnes of carbon dioxide (MtCO2) emission savings. This is based on 10% of households installing turbines at costs competitive with grid electricity, which is currently around 12p per kWh.
The study also indicates that for the UK as a whole, the majority of electricity and carbon savings are available from small turbines in rural areas - four times as much as urban areas irrespective of costs, and considerably more given economic drivers. This is mainly due to wind speeds generally being higher in rural areas. Turbines in some rural locations could provide cheaper electricity than the grid, but it appears that in many urban situations, roof-mounted turbines may not pay back their embedded carbon emissions.
The report published today marks the culmination of 18 months research by the Met Office and Entec, and is partly intended for government policy makers. It makes important recommendations to improve existing policy measures, including that:
• A criterion should be used in any new grant schemes to measure likely carbon savings. This is to help ensure grants are awarded to installations which save reasonable amounts of carbon; and
• Higher height limits for stand-alone turbines should be allowed under permitted development rights. This is to help maximise the overall carbon savings of small-scale wind energy, given the sensitivity of electricity generation to height.

---
Rooftop nonsense is alive and well in France. See this article from Paul Gipe

It's hard to know whether to laugh or cry that these guys get public acclaim for wildly oversold nonsense.

www.wind-works.org
elena energie
in the city
(updated with response from RD Swift turbines, and my email to BWEA)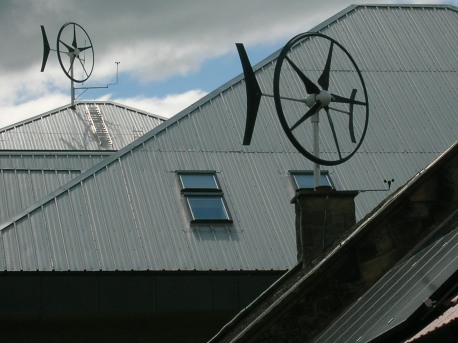 Mostly now when I see these 'Swift' turbines they are under repair for some reason. It looks awful.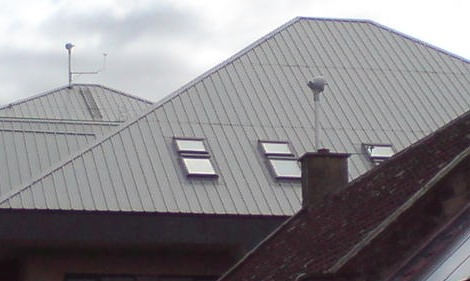 ---

The new certification body BRE have come out with new guidelines for estimating windspeed on urban sites that you can download.

These rules of thumb (see appendix suggest that the windspeed at rooftop level is approximately 50% of what you would expect from using the DTI (NOABL) data set that everyone relies on. That means 1/8 of the energy production.

---
The Carbon Trust have also brought out a new
Windspeed Estimator on line that is much better than NOABL for built-up areas.
---
The Warwick Urban Wind Trial project has engaged in depth with the new market for urban, building mounted wind turbines at a critical time in market development. By taking the customer perspective and combining technical monitoring with social research into the impact of installations on public perceptions of energy efficiency and wind, the project is providing the most thorough and complete assessment to date of the efficacy of urban wind systems in supporting UK energy and environmental policies.

Further evidence from the Warwick Wind Trials shows that most of the new generation of rooftop turbines also fail to meet their claimed output, often only achieving 30% or less. In many cases the inverter's standby power consumption exceeds any power generated on urban sites.

The final report is now available and it makes essential reading for those who want to know about small scale urban wind realities (as opposed to marketing spin).

---

"Renew-Reuse-Recycle is an online community all about what we can do to stop or mitigate the effects of climate change.

"Some of our members have recently started logging their KWh output on a monthly basis in a shared Google Spreadsheet."

---
Siting of small VAWT turbines in the UK

Factors affecting the success of a wind turbine are :reliability, windspeed, swept area, cost and efficiency. I found a Quiet Revoluiton QR5 turbine at the botanic gardens in Edinburgh and I am checking out these criteria.

There is a good rule of thumb that says a wind turbine should be 30 feet above any obstruction within 300 feet. Windspeed is highly critical for energy production since the energy depends on the cube of the windspeed. There is hardly any wind for turbines sited below the 'canopy layer' of the tree tops. For more details check the Carbon Trust wind siting tool. The company state that "Please note that the minimum recommended average wind speed for a QR5 is 5m/s." But they were willing to sell one to go on this site, maybe just for "demonstration purposes"?

Reliability is very important since the kilowatt hours of energy generated will depend on the hours the turbine is available. The QR5 is out of action so far as I am aware due to problems with the blade attachments. Vertical axis turbines do have intrinsic fatigue problems which along with the problems of starting and stopping, and the problems of putting them on proper towers have made them a poor choice for wind energy.

The turbine is a nice size (5m high x 3.1m in diameter) but in relation to its cost it will not produce much energy even on a good 5 m/s site. The turbine alone costs £25,000. It does not matter how efficient it is it can never produce more than about 12,000 kWh per year at a 5m/s site, and the manufacturers claim 7,500 kWh per year. A HAWT of similar size and a fraction of the cost would do the same.

Nice ornament? Or a big waste of money, and another big embarrassment to the small wind industry?